Don't miss out! Be among the first to hear about new releases and time-limited sales as well as contests and content exclusively for newsletter subscribers. You'll also get a free copy of The Texan's Promise, a short story that's not for sale anywhere! It's for newsletter subscribers ONLY!!!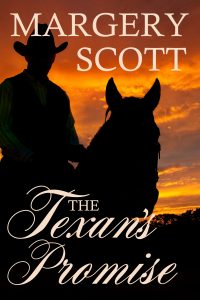 Mary Willow believed Garrett Connors when he left Texas, promising to come back for her. Now, four years later, he's home, and it seems he doesn't even recognize her. Was his promise a lie? Did she mean nothing to him? Or is there another reason why it took him so long to return?
Please check your email and click the link to confirm your subscription. If you don't receive an email within the next few minutes, check your spam folder.
Your information will always be treated with respect. Click here to read our complete Privacy Policy.
You can unsubscribe from our mailing list at any time by clicking the link in the footer of any email you receive from us.