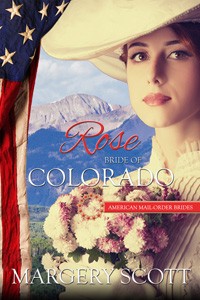 Available now!!!




ROSE: BRIDE OF COLORADO

 Rose: Bride of Colorado is the 38th book in the 50-book American Mail-Order Bride Series
When Colorado rancher Charlie Halstead's father threatens to disinherit him if he doesn't get married, and not one woman in Cedar Valley can hold his attention, he does what his best friend did – he advertises for a wife.
To escape a family scandal, Boston socialite Rose Winchester left home and took a job in a garment factory. But after a fire, she is left with no means to support herself and is forced to become a mail-order bride.
Although neither Charlie nor Rose expects their relationship to develop into anything more than friendship, love blossoms between them, but their fragile relationship is tested when secrets from the past threaten to tear them apart.
Buy now: Amazon