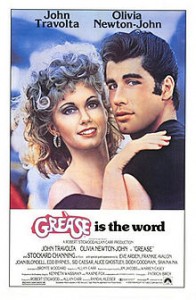 Grease is the word …
It's cheesy, it's so sugary-sweet you get cavities from just watching it, and it has no educational value whatsoever. But it's one of my favorite movies ever.
John Travolta, coming off his Saturday Night Fever fame, is the perfect Danny, the tough guy on the outside who's so concerned about how he looks in front of his friends that he can't admit he really cares about sweet, naive Sandy, played by Olivia Newton-John. They spend the entire movie dancing around each other – Danny trying to impress Sandy (and failing) with his athletic abilities and Sandy trying to morph herself from her girl-next-door appearance into a sexpot. Finally, they manage to "go together, like rama lama lama ke ding a de dinga a dong" and they get their happy ending.
The romance is cliché – good girl/bad boy, girl gets boy, girl loses boy, girl gets boy and happy every after, but even thirty-something years later, it's still a fun movie to watch. The music is infectious, the characters are enjoyable to watch, and even though the portrayal of the 50's isn't accurate, it's still fun to look back at a time when teenagers hung out in a malt shop, wore bobby-socks and a big Saturday night was a movie at the local drive-in.
Hmm…it's Saturday. Drive-in movies have gone the way of poodle skirts and duck-tailed hair, but I do have my Grease DVD. Now where's the popcorn?