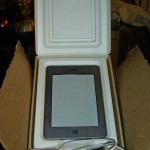 I'm a failure. I admit it. The April A-Z challenge was too much for me to handle. It wasn't enough that I had to blog every day, but I had to come up with a topic based on the alphabet, too. Can we say stress??? I know, hundreds of people took part in the challenge, and I'm sure most of them got through it unscathed. I couldn't do it, and it even kept me away from my blog completely until now.
So, to make myself feel better, I shopped 🙂 After months of waffling, I finally bought one. Yes, I'm now one of the Kindle generation. Originally I wanted the Kindle Fire, but when I found out the wi-fi thingie didn't work in Canada, I decided to buy the Kindle Touch instead.
I'm still not sure it's the right thing for me. I like being able to see how much I've read. I love the smell of the paper and ink. But most of all, I love the way a book feels in my hands, especially in those few minutes before I turn off the light at night.
But I'm open to giving this a try. What about you? Do you have an e-reader? What kind? Do you love it? Hate it?