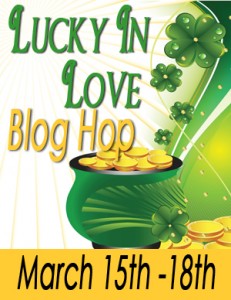 This weekend, I'm taking part in the second annual Lucky In Love Blog Hop.
Almost 300 bloggers have giveaways and posts about those men we love!
But that's not all….
We have TWO grand prizes. You as a reader can go to EACH blog and comment with your email address and be entered to win. Yep, you can enter over 200 times!
Now what are those prizes?
1st Grand Prize: A $100 Amazon or B&N Gift Card
2nd Grand Prize: A Swag Pack that contains paperbacks, ebooks, 50+ bookmarks, cover flats, magnets, pens, coffee cozies, and more!
I've been lucky in love (I married my husband when we were still in our teens after only knowing him for five months. A recipe for disaster, right? Well, we've made it through a kazillion years of marriage and we're still together.
Some would say I followed in the footsteps of my parents. They also married in their teens and were married for over fifty years.
St. Patrick's Day is a bittersweet celebration for me. My father, a Scotsman through and through, was born on St. Paddy's Day. So his birthday was a double celebration, complete with birthday cake and gifts, his green suspenders, green hat, shelalagh and Irish music <sp?> Can you tell my father liked to party? 🙂 I miss him every single day, but on Sunday, I'll raise a glass of green beer to him and wish him a Happy Birthday and Top 'o the Morning.
Because when it all comes down to it, if he and my mother hadn't been lucky in love, I wouldn't be here.
The heroine in my second Morgans of Rocky Ridge novella is Irish, and much as I'd love to offer a copy, it's not ready yet. So, leave me a comment along with your email address and you might win an e-copy of the first book in the series – Cade's story.
When revenge leads Cade Morgan to hold up a stagecoach and kidnap his childhood friend, Isabella Morrow, he discovers his feelings for her are stronger than ever. He suspects Bella feels the same way, so why is she intent on marrying another man? And what kind of future can he offer her now that he's wanted by the law?
Click here to check out the other blogs and to be entered into a draw for the fabulous grand prizes.
UPDATE: Using random.org, the winner of an e-copy of The Morgans of Rocky Ridge: Cade is Catherine Lee. I'll be sending you a Smashwords coupon so you can download the format of your choice. Thanks to all of you for entering, and I hope you'll visit again soon.