We're in the middle of a heatwave here in Canada, with temperatures climbing into triple digits (if you take humidity into account). It reminds me of the opening lyrics to the 1965 Drifters hit, Under the Boardwalk. I won't quote it here, but if you want to listen, you can hear the song here. Unfortunately, I don't have a beach or a boardwalk to hide under to keep cool.
Those of you in the south who deal with this heat and humidity every year are probably laughing at me right about now. That's okay. You folks are acclimatized to it. But my body is not meant for this kind of heat, especially since I have no central air conditioning in my house. Until the last couple of years, I've been comfortable with open windows and fans. Not anymore. Global warming? I'm no climatologist, but something's going on, and I'm not happy about it.
So, for those of you like me who've never needed a/c until now, here are a few ways to keep cool until the temps get back to normal.
1. Stay hydrated. Drink plenty of water, juice and electrolyte replacement drinks, such as Gatorade.
2. Soak your feet in cool water. For some reason, cooling your feet seems to help, as well as applying cold damp clothes to your wrists, underarms and neck/shoulders.
3. Eat fresh fruit (or frozen) and vegetables, and avoid high protein foods.
4. Avoid alcohol and caffeine.
5. Go out – not into the blistering sunshine, but to a mall, a movie, anywhere that has a/c. If you can't go out, head to the basement. Since heat rises, the basement is the coolest area of the house.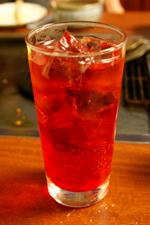 Right now, I'm heading downstairs to sit by a fan with an ice-cold drink and a good book.
Do you have tips for staying cool?
PS: Just think, a few months from now, we'll be wishing it was half as warm as it is today.
[wysija_form id="1″]