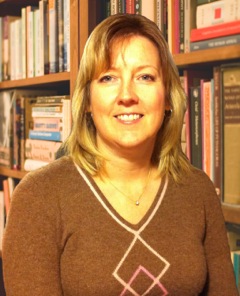 I'm pleased to have author Jill Hughey as my guest today to tell us a little about herself and Little Witch, her latest release. This novella is the fifth book in her Evolution Series.
Welcome, Jill. The blog is yours.
Why We Love a Good Book Series
Hi, I'm Jill Hughey, and the most interesting fact about me is that I can sing really, really high. As in opera-singer high. I take lessons and everything. It is a passion I began to explore after most people are well on their way in their careers, sort of like my novel writing.
While it is not so easy to share my singing voice with you on a blog, I am thrilled to introduce a new release from my writing repertoire.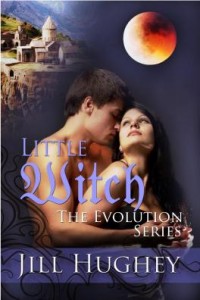 My "Evolution Series" started with the book Unbidden, set in 831 Francia (what is now France). There are three other stories in the series, and I've just released the fifth installment, Little Witch: Historical Romance Novella, which ends in 848. The men are, for the most part, the connecting thread through the series. The most interesting discovery I've made as I've followed characters through 17 years is that I really have gotten to know them. When I needed to bring the hero and heroine from another book into Little Witch, it was so easy to invoke who they are, and a real pleasure to fill in what has been happening to them for the ten years that had passed since I last wrote about them.
I think readers get to know characters almost as well as the authors who write them. That is why many readers love a series, and it is like a huge gift to discover an author new to us who has more than one book available so we can voraciously devour a new world, then revisit the heroes and heroines we have grown to love.
For some of my shorter books, I have given supporting characters their happy-ever-afters. Little Witch features Nox, the servant of the Lord of Ribeauville who is the hero of Vain. Here is the blurb:
A vicious neighbor uses a series of coincidences to label Salena as the local moon-charmer, making her an outcast in rural Francia. When Salena encounters her brother's childhood friend, Nox, out on business for the Lord of Ribeauville, she fears he will accept the locals' tales about her, especially since they relate to the death of his family a decade before. He is, instead, as charmed by her as she is by him.
Nox's sympathy for Salena evolves into affection in spite of his strict rule against close ties with people. Afraid to risk another loss like that of his youth, he abruptly ends their relationship, unaware that Salena has already been downtrodden by her father denying her request to venture farther out into the world.
A threat to Salena's family prompts her to run away in the hopes of protecting those she loves while forging a new path for her life. Too late, Nox discovers that she has also run away with his scarred heart.
In the following excerpt, I share a view into the conflict Nox feels when Salena is near.
EXCERPT
Trees around the church offered patches of relief from the warming June sun. Salena backed away from the building, shading her eyes to see as much of it at once as possible. She finally gave up, dropping her hand to her side, defeated.
"What is it?" Nox asked.
"I will never have the memory of it right in my mind," she said. "I want to remember it perfectly. I wish I could carry it right back home with me, to look at it when I wished." She hurried to the other side of the hill where she looked down over the town again. "I envy you," she said over her shoulder. "You have all of this around you. You come and go as you please and are among people. Look at them, walking in the street and talking. All I have ever known is grass, mud, trees and the river. Suddenly there are all these things I've been told about but never understood."
Nox almost said something light-hearted about sometimes wanting fewer people around. Her forlorn expression stopped him. "There is nothing wrong with grass and trees," he said.
"The air smells different," she said, inhaling.
"Smoke and latrines," he suggested.
She swatted his arm. "You want me to think the worst. But I won't," she vowed, bracing her hands on her hips. "I will
remember it as perfect."
"You talk as if your visit here is already over."
"It will be, too soon."
"The town isn't going to disappear."
"No, the town will be here. Depending on Grant to bring me to the town is another thing entirely." She sighed. "I feel so trapped at home, Nox. I just do not fit there anymore. I sensed it before, then last night, in Lady Lily's hall, I could feel myself expanding to fill a new space."
She tilted her head back. The sun highlighted her full lips, the temptation of them overwhelming the internal warning her words incited in him. "Don't listen to my rambling," she said to the sky. "I certainly don't imagine I belong in that great house." She sighed again. "I don't know why I keep blurting these things out to you." She gave him a direct look. "Actually, that is a lie. I tell you because there is no one else I can tell. I cannot tell anyone in my family. They would be worried or hurt. They would think that something must be done when I know very well there is nothing to do." She set her shoulders. "Forgive me. Let me go find Grant. You were probably hoping to spend the day with him, not stuck with his awestruck hayseed sister and pregnant wife." She shifted to walk around him.
"Stop," he said, indeed wanting to stop her rambling. She confused him, and the spark that sizzled to his gut when he reached out to touch her arm alarmed him even more than her declaration that she wanted to leave her home, with an apparent preference for Ribeauville. "You are not a hayseed. I am not exactly sure what you are, but you are not a hayseed any more than you are a witch."
Those soft lips parted in wonder at his announcement, and the eyes that frightened other people drew him in. He kissed her. On the grounds of the church in full view of anyone who might happen along, he kissed her and drank her in after a tedious month of pretending he was not thinking of her. He pulled her against him despite a long night of convincing himself he had not wanted to do just that the moment she hopped down from the cart yesterday.
She broke the kiss to settle against him, her ear on his chest, head tucked under his chin. Her hands settled on his waist in that way she had that implied a comprehensive possession of his body. The heat of her palms coursed through him like warmed wine.
"I missed you, Nox," she said, devastating him with the simplicity of the statement.
He did not know how to answer since this had been what he had worried about all along. He had told himself he dreaded her attachment to him. If that was true, how could she feel so perfect nestled against him? How could her words calm him instead of worrying him? He said nothing, but could not stop the momentary tightening of his arms around her before he set her away from him with an internal reminder that he had nothing more than occasional kisses to offer.
END OF EXCERPT
Little Witch: Historical Romance Novella, is currently available at Amazon. http://www.amazon.com/dp/B00EUA1TI8
I hope you will give my Evolution Series a try. The first book, Unbidden, is free at many ebook vendors, and I also offer The Evolution Series Bundle that includes everything but this most recent release.
Thank you, Margery, for letting me share with your visitors today. Happy reading!