Welcome to Spotlight Saturday, a new feature on my blog. Each week, I'll spotlight a book that I've either read and enjoyed or is in my TBR pile.

Title: Â Â Â Â Â  Loving the Earl
Author:Â  Â Sharon Cullen
Genre:Â Â  Historical romance
Description:
In Sharon Cullen's sizzling novel of scandal and seduction, a headstrong beauty is pursued across Europe by London's most notorious rake.
Having vowed never to wed again, widowed viscountess Claire Hartford is about to do the unthinkable: travel unaccompanied across the continent in search of a lover. Her adventure begins sooner than expected, when she meets a magnificent cloaked stranger on her ship's gangplank. He is Lord Blythe, a man whispered about in London's ballrooms and drawing rooms, a scandalous rogue hell-bent on seduction.
Nathan Ferguson curses the day he agreed to look out for his best friend's wayward sister. The charismatic earl is traveling to Paris to uncover the truth behind his father's death, but his desire for Claire threatens to be his undoing. From France to Italy, on a journey of passionate discovery and danger, Nathan is honor-bound to protect her—from himself most of all. What can he offer Claire? Only love, as he sets out to prove to the woman of his dreams that she belongs to him—body, heart, and soul.
 Advance praise for Loving the Earl
"Loving the Earl is charming and fast-paced. It's filled with passion, intrigue, a resourceful heroine you'll love, and a delicious hero you'll fall in love with. An absolute delight!"—New York Times and USA Today bestselling author Jacquie D'Alessandro
"Sharon Cullen is a natural-born storyteller. Her twists and turns will keep you turning the pages."—Margo Maguire, bestselling author of The Highlander's Desire
"With its bad-boy hero and spunky heroine, Sharon Cullen's Loving the Earl is sure to please readers looking for more than the typical Regency come-out story. Intrigue and romance fuse seamlessly in this adventurous romp that takes the reader from Dover to Paris to Venice and finally to a sigh-worthy happily ever after."—Shana Galen, author of True Spies
Excerpt:
Lord Blythe leaned halfway out of the carriage to grab the door and slam it shut before he lurched to the opposite seat and collapsed into it, his chest heaving, his glare ominous.
Several heartbeats of silence passed. Claire began to fidget until she finally blurted out, "I told you I was going to escape."
"That you did. You didn't tell me you were going to render Marchant's servant unconscious in the process."
She looked away and chewed on her lip for a moment. "I thought he was you."
Blythe barked out a laugh and ran a hand through his hair. "I have that to be thankful for at least."
She narrowed her eyes at him. "You left me locked in a room in a brothel. What did you expect me to do?"
"What any sensible woman would do. Stay there until I came to fetch you."
Her back teeth came together and fiery anger snapped through her. "So I was to bide my time until you saw fit to finish gambling?"
"Yes."
"I am not your luggage, my lord. I don't sit in a closet until you decide you need me."
He raised an eyebrow. "I put you there to keep you safe and that was not a brothel. That was Marchant's residence."
"You could have fooled me."
He leaned forward. "And what would you know about brothels, my lady?"
Buy links: Amazon Barnes & Noble Random House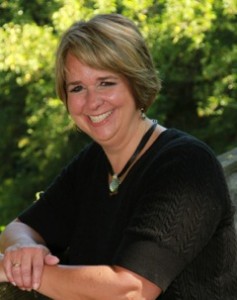 Author bio:
Sharon Cullen is the author of the historical romance, THE NOTORIOUS LADY ANNE, LOVING THE EARL, and PLEASING THE PIRATE (available February 2014). She's also published in romantic suspense, paranormal romance and contemporary romance.
Her other job descriptions include chauffer, laundress, cook and mediator to her three very busy kids, her husband and two dogs. She lives in southwest Ohio with her brood although her dream is to someday retire to St. Maarten and live on the beach.
If you'd like to find out more about Sharon and her books, you can visit her website. She's addicted to social networking so you can find her on Facebook, Tumblr and Twitter. Friend her! Like her! Follow her! She'd love to hang out with you and talk about her passion—books.