I'm thrilled to have my friend and fellow loop member, Kristina Knight, on my blog today. Her latest book, The Saint's Devilish Deal. Welcome, Kristina. Btw, I love the cover of this book. Stuck in a deep freeze, I need all the photos of beach and sun and sand I can find to remind me that yes, we will see summer again. Eventually.
Here's a little about Kristina.
Once upon a time, Kristina Knight spent her days running from car crash to fire to meetings with local police–no, she wasn't a troublemaker, she was a journalist. When the opportunity to focus a bit of energy on the stories in her head, she jumped at it. And she's never looked back. Now she writes magazine articles by day and romance novels with spice by night. She lives on Lake Erie with her husband and daughter. Happily ever after.
Margery: And she tries to keep warm :)Â  Take it away, Kristina. The blog is yours.
Today I'd like to share a little behind-the-scenes action from my contemporary romance, The Saint's Devilish Deal. As with most of my books, music played a part throughout the writing – some songs were representative of the hero, some of the heroine and a couple just had that vacation feel that I wanted for the book.
Here are the top four songs that helped me write The Saint's Devilish Deal.
4. Long, Hot Summer by Keith Urban – how could a book set in Mexico in the heat of summer not have this song on the playlist?!? Okay, even if it wasn't a summertime setting and even if the characters were located in Alaska I'd have fit it in because this song represents both Esme and Saint – they're both falling back into love (without wanting to admit it) from the word go!
3. It Only Hurts When I'm Breathing by Shania Twain – This song is totally Esme. She puts up a great front – she's got the job, the clothes, the attitude. But inside she's still a mess, both from her past pre-Santiago and because of what happened with Santiago before the book began. But even though she's been hurt, she keeps moving forward…
2. Dock of the Bay by Otis Redding – This song is sooo Santiago. He's made a life out of seeming to not to anything – at least since the fiasco that broke his relationship with Esme the first time around. He likes the surfer image because it keeps people from depending on him…the only problem is he has a loyal streak that won't allow him to sit by and see anyone hurt…
1.Love You Til The End by The Pogues – I've loved this song for a long time, primarily for the Irish feel of the music. But it's such a great fit for this book – I love the message of this song. There are hiccups and big messes that we all have to deal with but if we keep love at the forefront, we can make it through. Part of Esme and Saint's journey is figuring out that the sometimes you just have to trust your heart…
Margery: Love your song choices, Kristina, although I've never heard the last one. I'll have to go check it out on iTunes.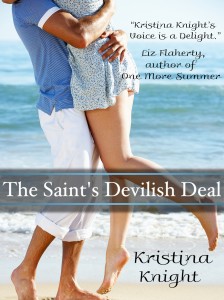 The Saint's Devilish Deal:

A billionaire surfer… A down-on-her-luck hotelier… One hot summer fling…
Blurb:
Esmerelda Quinn has one shot at saving her aunt's beloved vacation villa – and the only home she has ever known. Putting up with ex-surfer Santiago Cruz's antics? He's burned her before but she can handle The Saint, this time around.
Santiago Cruz wants out of Puerto Vallarta in a bad way but after hearing the stipulations that could cost Esme her beloved villa, he can't leave. And as long as she's willing to play by his rules, they might just have some fun along the way…
As long as he plays by her rules, Esmerelda knows she can salvage the estate – and keep her heart intact. The only problem? The Saint's charms are hard to resist…and soon she finds herself falling for the rich boy down the hall – all over again.
Excerpt:
"You forget yourself, Esmerelda. You're talking about making this simple for the staff, that doesn't mean I need to come to you for every new guest registration or idea I have. Besides, we need this campaign."          
Santiago waved his hand. "We need more guests of a certain means to make the villa stand out. Families are great, but they won't make Casa Constance a go-to destination. These people will. So, we use our new guests as features in a new campaign for the high-end travel magazines. A few shots in the tabloids wouldn't hurt, either."
"You weren't even going to discuss this with me?"
"I'm telling you now. While we're on the subject—" he tossed a few magazines from his desktop onto her lap "—what do you see in these pictures?"
Esme sent him a killing glance and then flipped through the pages. "Boring. Bland. Not home."
"Exactly. This isn't a home, or it shouldn't be a home first. If you want Casa Constance to succeed you need to treat it like a business. So, make-over, what do you like?"
She tossed the magazines back onto the desktop. "Our guests love the color and textures of Old Mexico. They say so all the time."
"Your guests haven't been in residence, at least not actively, in more than a year. We aren't appealing to anyone right now and we need to. So, makeover starts this afternoon and your new training begins in the morning."
"I know what I need to know about running a vacation resort."
"You need to experience a vacation to sell it. We need day-trips, we need amenities. I'll bet you've never gone para-sailing or sky diving, much less enjoyed a couple's massage." Her cheeks pinked at the last suggestion and Santiago smiled. "Celebrities visiting Casa, playing on our private beach, being featured in an advertising campaign—with a few pictures leaked to the tabloids to get the word out even sooner. Casa needs this."
Esme took a few breaths and then settled back into her chair. "I can't afford to pay the salary of a New York advertising crew. Seriously, Santiago, you have to cancel."
"My three months, remember? It won't cost you a thing. The photographer owes me a favor. The only cost will be the campaign copy, which will be negligible. I do know what I'm doing, Esmerelda."
"Okay, mail." Esme shook her head as if clearing thoughts of the upcoming ad campaign from her head. "Marquez usually separates bills from letters—"
"As the mail will be delivered to the front desk, I'm happy to see to it. And let's cut to the chase." He leaned back in the chair and clasped his hands behind his head. "I don't want to be tied down to a vacation villa for the rest of my life. But if you really want this, there is something you have to do for me. First."
Esme swallowed, crossed and re-crossed her legs before clasping her hands in her lap. "What do you want? A payoff? You've seen the books, you know there isn't much money. But if it's money you want, I'll agree to your price. I just need time to come up with the capital."
She really didn't know him at all. He shouldn't be surprised, but he was. Surprised and a bit disappointed. "I need your money like I need another surfing championship," he said, sitting up straight. "No, what I want from you is a bit more. . . ephemeral. I want your time. For three hours each day, you belong to me. No villa work. No guest handholding." He walked around the desk to rest his hip against one corner. "No conferences with staff. No following the maids on their routine cleanings and no visits to the kitchen to give Gloriana instructions. For three hours each day, your time is my time."
"You can't be serious. That. . . that's just. . ." She trailed off when his index finger traced the line of her jaw. He lowered his voice.
"No work. No phones. No villa. You do what I say, what I want."
The Saint's Devilish Deal is available now on Amazon.
Learn more about Kristina and her books:
Website: http://www.kristinaknightauthor.com
Facebook: http://www.facebook.com/kristinaknightromanceauthor
Twitter: http://www.twitter.com/authorkristina
Goodreads: http://www.goodreads.com/kristinaknight
Thanks so much for visiting with me today, Kristina. Best of luck with The Saint's Devilish Deal. And stay warm 🙂
[wysija_form id="1″]