Welcome to another Spotlight Saturday. This week, I'm reading Louisiana Longshot, book #1 of the Miss Fortune mystery series by Jana Deleon. I've just started it, and I'm really enjoying it so far.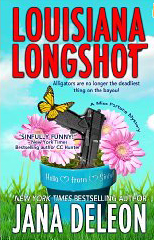 Title: Louisiana Longshot (Miss Fortune mystery series, book #1)
Author: Jana DeLeon
Genre: Cozy mystery




Description:
It was a hell of a longshot…
CIA assassin Fortune Redding is about to undertake her most difficult mission ever – in Sinful, Louisiana.
With a leak at the CIA and a price on her head by one of the world's largest arms dealers, Fortune has to go off grid, but she never expected to be this far out of her element. Posing as a former beauty queen turned librarian in a small, bayou town seems worse than death to Fortune, but she's determined to fly below the radar until her boss finds the leak and puts the arms dealer out of play.
Unfortunately, she hasn't even unpacked a suitcase before her newly-inherited dog digs up a human bone in her backyard. Thrust into the middle of a bayou murder mystery, Fortune teams up with a couple of seemingly-sweet old ladies whose looks completely belie their hold on the town. To top things off, the handsome local deputy is asking her too many questions. If she's not careful, this investigation may blow her cover and get her killed.
Armed with her considerable skills and a group of old ladies referred to by locals as The Geritol Mafia, Fortune has no choice but to solve the murder…before it's too late.
Buy links: Amazon Barnes&Noble iTunes Kobo
[wysija_form id="1″]