Welcome to another Spotlight Saturday. This week, I'm re-reading a book from my keeper shelf, The Witch and the Warrior, written by fellow Canadian, Karyn Monk.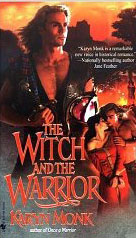 Title: The Witch and the Warrior
Author: Karyn Monk
Genre: Medieval romance






Description:
Suspected of witchcraft, Gwendolyn MacSween has been condemned to being burned at the stake at the hands of her own clan. Yet rescue comes from a most unlikely source. Mad Alex MacDunn, laird of the mighty rival clan MacDunn, is a man whose past is scarred with tragedy and loss. His last hope lies in capturing the witch of the MacSweens–and using her magic to heal his dying son. He expects to find an old hag….Instead he finds a young woman of unearthly beauty. There's only one problem: Gwendolyn has no power to bewitch or to heal. Now she must pretend to be a sorceress–or herself perish. But can she use her common sense to save Alex's son, and her natural powers as a woman to enchant a fierce and handsome Highland warrior–before a dangerous enemy destroys them both?
Buy links: Amazon Barnes&Noble iTunes Kobo
[wysija_form id="1″]