Today, I'd like to tell you about historical romance author Sharon Cullen's latest release, Pleasing the Pirate. I haven't read this book yet, but I'll bet it's fabulous, as her other books are.
Here's a little about Sharon:
Sharon Cullen is the author of the historical romances, The Notorious Lady Anne, Loving the Earl and Pleasing the Pirate. She's also published in romantic suspense, paranormal romance and contemporary romance.
Her other job descriptions include chauffer, laundress, cook and mediator to her three very busy kids, her husband and two dogs. She lives in southwest Ohio with her brood although her dream is to someday retire to St. Maarten and live on the beach.
If you'd like to find out more about Sharon and her books, you can visit her website. She's addicted to social networking so you can find her on Facebook and Twitter. Friend her! Like her! Follow her! She'd love to hang out with you and talk about her passion—books.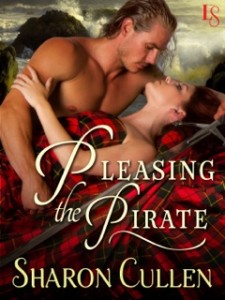 Blurb:
Two hearts are wrenched between love and duty in Sharon Cullen's tale of a ruthless pirate and the Scottish lass who fills him with desire for something greater than plunder.
With her clan's crops burned and their property confiscated, Mairi McFadden is desperate to free her brother from imprisonment so that he can take his rightful place as chief. Her only hope is the fierce English pirate Phin Lockwood, but the buccaneer laughs at her meager funds. His roving eyes, however, tell Mairi there's something else he'll take in exchange for her brother's rescue. Though she burns with hatred for the English, she'll do anything to save her clan.
The crown has made it clear that Phin has two choices: bring in a certain Scottish traitor or hang. And he's not about to let a tiny, whiskey-eyed woman get in his way, even if she is pointing a gun at him. When Phin learns that Mairi's brother is the very man he seeks, he's more than willing to use the lass as bait. But as the moment of capture draws near, Phin is surprised by his feelings for the courageous beauty who has him considering risking his life—for someone besides himself.
Excerpt:
The sound of large, booted feet made its way toward Captain Phin's cabin, interrupting her thoughts. The steps were heavy, methodical, steady, moving ever closer. Mairi sat up. Her palms grew moist and her heart thundered. This had to be him. Even his footsteps sounded authoritative.
She jumped up and wiped her free hand on her skirts, wincing at the protestation of her stomach. Transferring the pistol, she wiped off her other hand, then raised the pistol with both hands, sighting down the barrel as her da taught her to do.
The door creaked open and Captain Phin stepped in. All six foot plus of him. He had to duck to clear the doorway and when he straightened, the top of his blond head nearly touched the ceiling.
He locked stormy gray eyes on her. He was wearing a dark blue waistcoat with gold epaulets at the shoulders and absolutely nothing beneath it except a very large expanse of sun-browned skin.
Oh my. She had to remind herself to breathe.
His breeches were tan in color and so tight she saw every muscle in his thighs ripple. Rugged, well-worn boots reached his knees.
Mairi tore her astonished gaze from his body to his face. This was not what she expected when she pictured Captain Phin Lockwood. She'd imagined an older man, face creased by years on the ocean. Bowlegged, bent at the shoulders, a dry voice and rheumy eyes.
This man's shoulders were impossibly wide and his eyes . . . She swallowed. She'd never seen such beautiful gray eyes.
A dark brown brow was lifted in query, a sensuous mouth twisted in an ironic smile. He crossed his arms over his naked chest and spread his very non-bowlegged legs to accommodate the rocking of the ship.
"That pistol is as big as you are, little one."
Oh, dear. That voice wasn't dry at all. It was smooth as the whiskey her da had kept in his study.
Buy Links:      Amazon     Barnes and Noble      Random House
[wysija_form id="1″]