There's much construction going on in our little corner of the neighbourhood. Sawing, hammering, digging, you name it. And our house is right in the middle of it. We're doing our own little project, replacing the concrete square front step with a new stone step, garden wall and pathway. We have a really small front yard, so I estimated a couple hundred dollars and a couple days. Uh … wrong. Sooo wrong. With only one worker boy (my middle son) and me changing my mind several times, my estimate is a teensy bit off. Okay, a lot off.
First came the grass removal and the digging out of the shrubs in front of the window. The two little trees were a bit tougher to dig out, but eventually the garden was empty.

Then the digging.
And the creative use of empty pop cans.
Then the sand.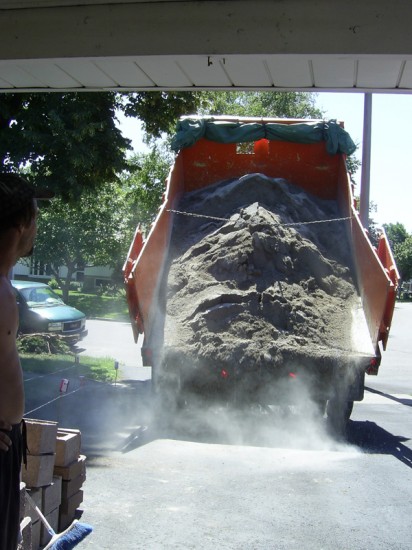 And here we are. We've laid the stone three times already, and I'm still not happy with it. I did forget to take into account the fact that the driveway is on an angle, which throws off any pattern.
We're taking bets how long this is going to take 🙂 Stay tuned. I'll post pictures when it's finally finished.