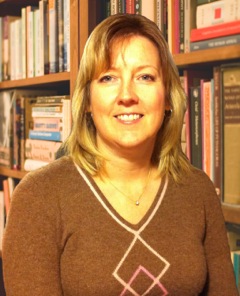 I'm delighted to welcome historical romance author, Jill Hughey, to my blog today. I'm a huge fan of historical romance but I stick to western USA. I admire anyone with the patience to research early medieval Europe, which Jill has done for her latest novel, Redeemed.
Jill, thanks for taking the time to visit with me today. Please tell us a little about yourself.
My name is Jill Hughey and I am an author of historical romance which I fit it in among motherhood, marriage, and part-time work in my husband's MacIntosh consulting business.
Sounds like you're busy, yet you still find time to write. What genre(s) do you write?
I write historical romance in which the emotions are raw and the romance takes awhile to develop. I use a reasonably modern voice. No thithers or thines.
Complete this sentence: When I want to kick back and relax…
I watch a Jane Austen movie, such as Sense and Sensibility, or one of my two versions of Persuasion or Pride and Prejudice. My family makes fun of me. They hear the familiar music start and yell "Again?"
Other than writing, do you have other talents?
My other talent is as a soprano. I started taking voice lessons five years ago. I sing classical solos and Broadway tunes. I was involved in instrumental music in my school years, but being a good singer was a real discovery for me. It is invigorating to challenge yourself to learn something new during middle age!
Yes, it is invigorating, but frustrating too, especially when you get past middle age 🙂
If you could live anywhere in the world, where would it be, and why?
Jackson Hole, Wyoming, where I had a direct view of the Tetons and good heat for the long winters! I would choose Jackson Hole because I could look at those mountains all day and write.
What do you like best about being a writer?
I love writing the first draft, pulling ideas and words from the thin air to create a story that did not exist before.
On the other end, what's your least favorite part of the writing process?
Formatting. Being self-published, I do my formatting myself. That is sheer frustrating drudgery to me. Some people enjoy making each page look just so, but to me formatting feels like childbirth. I just want the book OUT!!!
Tell us about your latest release.
Redeemed is the second book in my Evolution Series. The Evolution Series is set in the 830s in what is now France and Germany. This is after Charlemagen's death when his son is starting to wreck the empire. Redeemed features an emotionally and physically scarred hero who was the villain in the first book of the series. Doeg wants a wife for only one reason: free housekeeper. Our stern hero soon finds that the quiet yet determined Philantha may renew more than his home. I chose the title Redeemed because it really is a story of redemption for both of them. The heroine has her own history to overcome and both characters need what the other brings to the relationship, even though at the beginning neither appears to have much to offer. Though part of a series, Redeemed stands alone, so you do not have to read the first book, Unbidden, to understand or enjoy the second. My books are available on most eBook vendors, and in print on Amazon and CreateSpace. Here are two links for Redeemed – Amazon and Barnes&Noble
What are you working on now?
I am working on Vain, the third book in my Evolution Series. This one is about the best friend of my hero from the first book. Theo is a bit of a snob who will discover that happiness may not be found in marriage to a socialite, but rather to the daughter of a lowly tailor.
I look forward to any comments or questions. If anyone would like to keep current on what I'm up to, I am on Facebook and I tweet @jillhughey. I also have a badly neglected blog where you can read a funny story about a porcupine eating my patio doors at 1AM on a Saturday night. Do you know how loud a porcupine gnawing on wood is?
Thank you so much for letting me visit with you today, Margery!